from Huffington Post by Miles Mogulescu
That's how John Edwards summed it up. And although he came in second on the Democratic side, it's the message of the Iowa caucuses.
The biggest story out of Iowa is that nearly twice as many people turned out for the Democratic caucuses as turned out for the Republican caucuses (approximately 227,000 to 114,000). In effect, in winning the Democratic caucuses with 37%, Barack Obama received more than twice as many votes as Mike Huckabee received in winning the Republican caucuses. In fact, each of the three top Democrats--Barack Obama, John Edwards, and Hillary Clinton--received substantially more votes than Mike Huckabee. That in an historically swing state which went for Al Gore by 4,000 votes in 2000 and for George W. Bush by 10,000 votes in 2004. This augers well for Democrats expanding their base, picking up the majority of independents, winning the Presidency, and increasing their margins in Congress in the fall.
More analysis after the click ...
My comment:
I remember in 2004, after Bush won his second term, friends on the right sent me a red state / blue state map and crowed about the "victory" and the "man-date". I responded then with two maps that I'd found. One was a county by county breakdown that demonstrated that Bush's narrow victory didn't represent much of a mandate. On a county by county basis, it was very easy to see that Bush lost in those places where PEOPLE actually LIVED and won in the counties where they didn't. The second map that I sent colored the states in purples proportional to the balance of the red and blue votes in each state. Why, there wasn't a single red state in the Union! Those two maps seemed to have brought the conversation to an abrupt end in 2004.
I just stumbled across this map. It gives the familiar red state / blue state spread from the 2006 presidential election with the added nicety of mapping the
Top 20 American Universities
.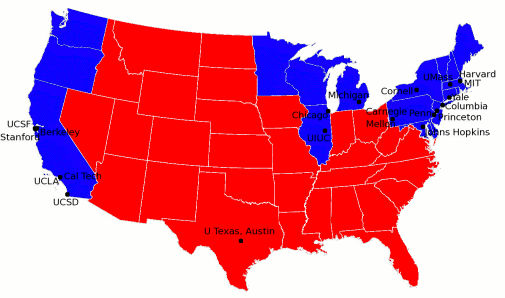 I wonder what those maps are going to look like this time around?