Excerpted from an essay by Tom Engelhardt
on AntiWar.com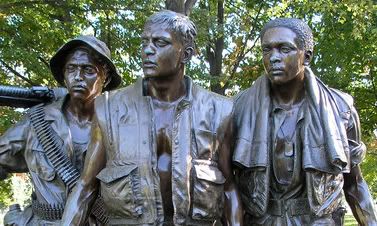 In his VFW speech, the president finally got to salve his own frustration. "In Iraq," he told his audience, "our troops are taking the fight to the extremists and radicals and murderers all throughout the country. Our troops have killed or captured an average of more than 1,500 al Qaeda terrorists and other extremists every month since January of this year."
Forgetting the absurdity of the figure (which, if accurate, would essentially mean al-Qaeda-in-Mesopotamia has been wiped out), let's just note that, as with the Vietnam analogy itself, the body count in administration hands arrives not as a substitute for victory, but as a way of staving off thoughts of defeat. The president, that is, picked up not where the body count started in Vietnam, but where those Five o'clock Follies left off.
In its own strange way, Bush's speech was an admission of defeat. Somehow, Vietnam, the American nightmare, had finally bested the man who spent his youth avoiding it and his presidency evading it. The president had finally mounted the tiger you are always advised not to ride and had officially entered the dead zone, where the bodies pile high and victory never appears, taking the rest of the country with him. It's clear that, barring some stunning development in Iraq (or perhaps an assault on Iran), whatever the "progress reports," whatever the debates, that's where we'll be until January 2009 when it will automatically become Hillary's or Barack's or Mitt's or Giuliani's war. (From the Vietnam years, we also know what happens when a president, who inherits a war, fears being labeled the person who "lost" it; we know just how hard it is to get out then.)
Find all of the piece here ...
---
You can track the
Iraqi body count here
. There are
other sources
that offer higher estimates. Iraq Body Count is an ongoing human security project which maintains and updates the world's largest public database of violent civilian deaths during and since the 2003 invasion. The count encompasses non-combatants killed by military or paramilitary action and the breakdown in civil security following the invasion.
Data is drawn from cross-checked media reports, hospital, morgue, NGO and official figures to produce a credible record of known deaths and incidents.