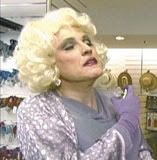 "Freedom is not a concept in which people can do anything they want, be anything they can be. Freedom is about authority. Freedom is about the willingness of every single human being to cede to lawful authority a great deal of discretion about what you do."
-- Rudy Guiliani

"Don't you see that the whole aim of Newspeak is to narrow the range of thought?… Has it ever occurred to your, Winston, that by the year 2050, at the very latest, not a single human being will be alive who could understand such a conversation as we are having now?…The whole climate of thought will be different. In fact, there will be no thought, as we understand it now. Orthodoxy means not thinking—not needing to think. Orthodoxy is unconsciousness."
"Arbeit macht frei" ("Work frees you" or "Work will make you free")
Sign over the entry gate at
Dachau
.
"Newspeak is a fictional language in George Orwell's novel Nineteen Eighty-Four. In the novel, it is described as being "the only language in the world whose vocabulary gets smaller every year." Orwell included an essay about it in the form of an Appendix (in the past tense)[1], in which the basic principles of the language are explained. Newspeak is closely based on English but has a greatly reduced and simplified vocabulary and grammar (e.g., 'good' means 'to love Big Brother'; 'bad' is deleted from the language because 'ungood' means 'bad'; therefore there is now no literal concept to express the term, 'Big Brother is bad'). This suited the totalitarian regime of the Party, whose aim was to make any alternative thinking ("thoughtcrime") or speech impossible by removing any words or possible constructs which describe the ideas of freedom, rebellion and so on. One character says admiringly of the shrinking volume of the new dictionary: "It's a beautiful thing, the destruction of words."
Now, re-read Guiliani's quote at the beginning of this post again in light of what you've just read.
"Freedom" means "submit"?
If that were true, we'd still be English!
Sieg Heil
! Heil Rudy!!