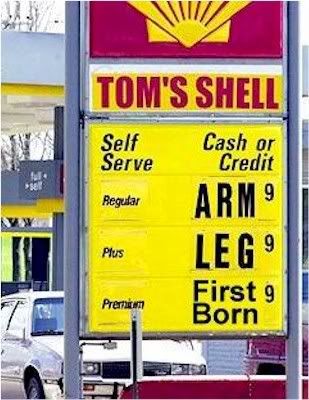 Add Saudi Arabia to the growing list (one that already includes Jay-Z and Giselle Bundchen) of those wary of the dollar. OPEC ministers are clearly wary of the dollar's decline — which continues today — and as oil producers struggle to deal with the weak greenback (since oil is denominated in dollars), analysts say now is a time to be concerned. "While many commentators, analysts and media have wondered at which point the dollar's decline is considered at a dangerous level, it is precisely when the influential group of oil producers begin mulling plans to receive payments in currencies other than US dollars for their oil," says Ashraf Laidi, chief forex analyst at CMC Markets.
on MarketBeat.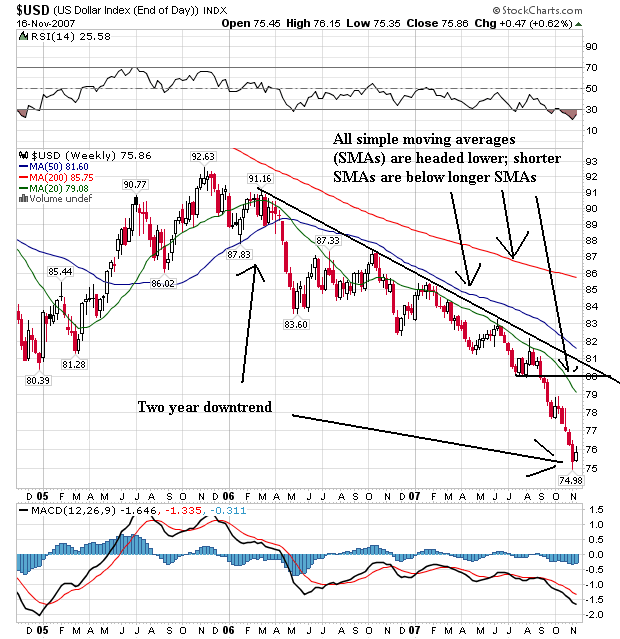 Could the value of the dollar (above) have anything to do with Bush administration policies? Personally, I think we're a little too far down the road to be able to blame it on Bull.
As an addendum here's
A Short Tutorial on the High Price of Oil and the Falling Dollar.
As Saudi Arabia and OPEC sing choruses of "It's not our fault, we have nothing to do with the prices", as in Prince Abdel Aziz bin Salam, Saudi Arabia's deputy petroleum minister comment:
"We are so perplexed and so frustrated with the idea we have anything to do with these prices."
... they hope everyone forgets that they lowered their productions quotas by 1.2 million barrels a day when oil was around $50 per barrel.
I wonder what would happen to oil prices if they restored that 1.2 million barrels per day to their production quote. Ya think the price might come down a tad?
So, how does it feel to have the "invisible hand of the market" firmly in your pocket?
Yes. Yes. It's all very flattering, but there's nothing you can say or do that will get
me to lower oil prices, increase production ... or stop funding terrorists.