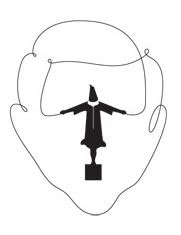 Noma Bar has a talent for creating convincing likenesses by combining a few elegant lines with brilliantly-incorporated symbolic graphical elements. It's a combination of political cartooning and caricature.
Mr. Bar was born in Israel and lives in London, where he does lots of work for
The Guardian
,
Time Out London
, etc. You may order a book of his work and see a few more images
here
, and there are many other illustrations viewable around the web.