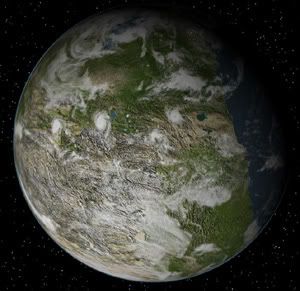 Ron Cowen / Science News OnLine
Supposedly, there's no place like home. But a new study suggests that earthlike planets orbit or are forming around many, if not most, nearby sunlike stars, providing places where life might have gained a foothold.
That conclusion comes from an infrared survey of some 300 stars similar in mass to the sun and ranging in age from a youthful 3 million years to a middle-aged 3 billion. Using NASA's
Spitzer Space Telescope
, Mike Meyer of the University of Arizona in Tucson and his colleagues surveyed those stars and their surroundings at an infrared wavelength of 24 µm. In many cases more radiation was emitted than the stars themselves could have produced, indicating the presence of dust. That may in turn be a sign of possible terrestrial planet formation, Meyer and his colleagues, including Lynne Hillenbrand and John Carpenter of the California Institute of Technology in Pasadena, argue in the Feb. 1
Astrophysical Journal Letters
.
The rest after the click ...